Stargazer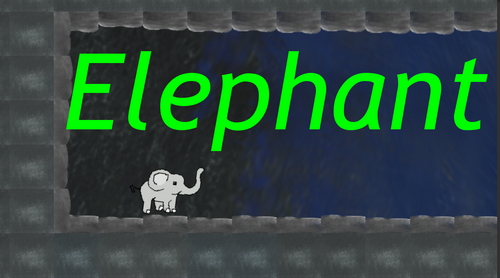 Devlog 1. 29.03.18
_________________________________________________________________________________________________________________________________________________
Set up project
Set up scenes
Added basic level manager
Added basic escape menu
Added basic music manager
Added basic player sprite
Added core mechanic to player (movement)
added particle effect shooting water (core mechanic effect)
Made trunk of elephant face up/down depending on direction of water shot
Made elephant face the way it shot
Made basic stone sprites
Made basic stone edge sprites
Made basic spikes sprites
Added 2 bools to trigger between 4 versions of the main mechanic
Added ingame menu to trigger between bools as well as movement speed
Added a seperate air speed, increasing speed only when going upwards on the y axis.
Added air speed to the ingame menu.
Made background
Fleshed out a prototype level 1
Made a puddle sprite
Made puddle as goal, that takes player to next level
Added floating effect to puddle, with 2 sec delay for next level load.
Made spawn point for player, increasing performance by moving player to spawn point, instead of reloading scene when dying.
Added functionality to starting menu, allowing you to navigate, aswell as exit the game.
________________________________________________________________________________________________________________________________________________________
Files
Elephant water mechanic test 11.zip
14 MB
Mar 29, 2018